| | |
| --- | --- |
| | BNC coaxial connectors are miniature; light-weight and can operate satisfactorily up to 11 GHz. The BNC is typically used in applications from DC to 4 GHz and yield low reflection in this frequency range and available for 50 Ω and 75 Ω performance |
• Interface Dimensions
Letter

Millimeters(Inches)

Minimum

Maximum

A

1.32(.052)

1.37(.054)

B

4.83(.190)

—

C

SLOTTED AND FLARED TO
MEET ELECTRICAL AND
MECHANICAL REQUIREMENTS

D

9.78(.385)

9.91(.390)

E

0.08(.003)

—

F

5.28(.208)

5.79(.228)

G

5.33(.210)

5.84(.230)

H

0.15(.006)

—

I

1.98(.078)

—

J

2.06(.081)

2.21(.087)

Letter

Millimeters(Inches)

Minimum

Maximum

A

—

4.72(.186)

B

8.10(.319)

8.15(.321)

C

8.31(.327)

8.46(.333)

D

9.60(.378)

9.70(.382)

E

10.97(.432)

11.07(.436)

F

5.18(.204)

5.28(.208)

G

1.91(.075)

2.06(.081)

H

8.31(.327)

8.51(.335)

I

—

0.15(.006)

J

4.72(.186)

5.23(.206)

K

4.78(.188)

5.28(.208)

L

4.95(.195)

—

M

10.52(.414)

—

N

2.06(.081)

2.21(.087)
Electrical:
Impedance
50 ohm
75 ohm
Frequency Range
0 to 4.0 GHz
0 to 1 GHz
VSWR
Straight : 1.3 max ; Right Angle : 1.35 max
Working Voltage
500 volts rms max at sea level
Dielectric Withstanding Voltage
1500 volts rms
Contact Resistance
center contact=1.5 Milliohms max
outer contact=1.0 Milliohms max
Insertion Loss
0.2 dB max @ 3GHz
Insulation Resistance
5,000 Megohms min
Mechanical & Environmental:
Mating
Two stud bayonet coupling
Durability
500 matings
Coupling Nut Retention
100 lbs min
Cable Retention
RG-58,141,142,223 →40 lbs min
RG-59,62A,210→40 lbs min
RG-174,188,316 →20 lbs min
RG-179B,187A →20 lbs min
Temperature Range
-65°C to 165°C
Vibration
MIL-STD-202 Method 204 Test Cond. B.
Salt Spray
MIL-STD-202 Method 101 Test Cond. B.
Thermal shock
MIL-STD-202 Method 107 Test Cond. B.
Materials / Finish:
Material
Plating
Connector Body
Brass
Nickel or Gold
Center Contact
Male:Brass
Female :Brass,
Phosphor Bronze or
Beryllium Copper
Gold
Gold
Insulation
Teflon or Delrin
None
Gasket
Silicone Rubber, Rubber
None
Crimp Ferule
Annealed Copper
Same as Body
Reverse Polarity BNC: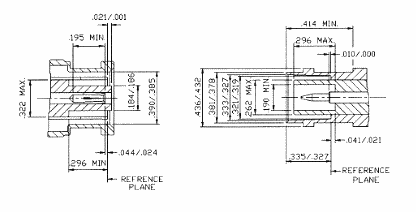 Electrical :
| | |
| --- | --- |
| Impedance | BNC:50 ohm |
| Frequency Range | BNC:0-4 GHz |
| VSWR | 1.3max (Straight); 1.35 max (Right Angle) |
| Voltage Rating | 500 volts rms max |
| Dielectric Withstanding Voltage | 1,500 volts rms |
| Insertion Loss | 0.2 dB max @ 3 GHz; |
| Insulation Resistance | 5,000 Megohms min |
Mechanical & Environmental:
Mating
BNC:Two stud bayonet coupling
TNC:7/16"-28 thread coupling
Durability
500 matings
Coupling Nut Retention
100 lbs Min
Cable Retention
RG-58,141,142,223→40 lbs min;RG-59,62A,210→40lbs min; RG-174,188,316→20 lbs min
Thermal shock
-65°C to 165°C
Materials / Finish:
Material
Plating
Connector Body
Brass
Nickel or Gold
Center Contact
Male:Brass
Female :Beryllium Copper
50 µ " gold over 100 µ " nickel
Insulation
Teflon
None
Gasket
Silicone Rubber, Rubber
None
Crimp Ferule
Annealed Copper
Same as Body